Volcanoes in Costa Rica are as diverse and complex as our biological diversity. There is an statistic that says that only 40% of the people on Earth have ever seen a volcano. When talking about an eruption only 15% of humanity has seen one…
And yet, for us, Costa Ricans, volcanoes are part of our daily lives. We are used to their massive presence, their occasional explosions, their sulfur aromas and the news, every now and then about a big eruption in this or that volcano.
However, they are not that bad. In general, the destruction and death that a volcano causes in Hollywood do not adhere to the truth at all…….. Well yes! However thanks to the advances in science, instruments tell us a lot of information and nowadays people in the surrounding of volcanoes have time to evacuate and be safe.
Although throughout the history of humanity you may find stories like Vesuvius, Pele Mountain or Krakatoa (And our own Arenal Volcano) that wiped out entire cities, killing everyone around. If you think about it… How long ago did you hear that a town or a city was destroyed by a volcano? That thousands of people were killed in an eruption?
None right? It doesn't happen anymore?… Well! It does! But people are not killed anymore. They are evacuated before volcanoes blow off their tops. At least in the most populated and known areas. Active volcanoes are monitored by the minute now.
They are as destructive as ever, but now, we have time to prevent a real disaster in terms of human lives. They still cause plantations to die, and cattle to starve. However, after the whole thing passes, there is no better fertilizer than that dark and rather uncomfortable ash filled with minerals.
Now… Why are volcanoes good?
These past few months we have been seeing the eruptions of the Turrialba Volcano and the Poas Volcano, giants that live in the surroundings of the Central Valley, and that have affected certain areas, mainly in the mountain areas.
A volcano always sounds like a threat…as stated previously, however, the truth is that in some regions of the World, – and Costa Rica is one of them- we are pretty used to these unusual forces of nature. But not only used to but thankful!
You see, we were formed by volcanoes and all of us we grew up with an eruption somewhere and earthquakes…. Volcanoes' little siblings.
We are used to the shakes and the news telling us that there was a larger explosion in one of our six active volcanoes.
But, yes! We do have more than six volcanoes! That's the thing! We have more than a hundred volcanoes!
We have a total of 112 volcanoes… and this is just inland.
If we count the ones under our oceans, the amount grows to an approx of 500 volcanoes in total… In a country a bit bigger than Denmark, or West Virginia.
But it is not only that we are used to them. It's more than that. Volcanoes, after all, have become a blessing to our soils and a great source of income for those in the travel industry. So, as you will read in the following lines, having as many volcanoes, it's not so bad after all!
Let's cover a bit of all our active volcanoes… just to say:
"Thank You, Life, for giving us these wonders!"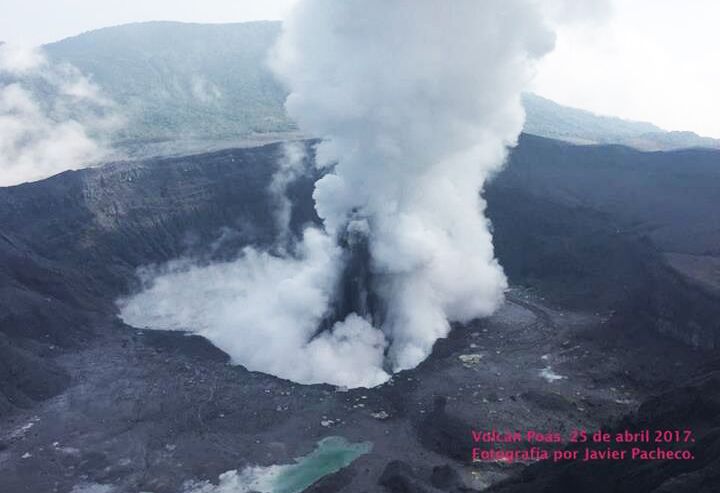 Poas Volcano is the most visited National Park in the country.
Only one and a half hours away from the capital city, it shows a gorgeous cloud forest and in the surrounding area, you can find coffee tours, forest trails, waterfalls theme parks, rainforest zip lining tours, and an abundance of restaurants and picnic areas.
Nowadays is presenting a real active eruptions chapter and the National Park has been closed. However the region is absolutely majestic and you may be lucky enough as to see an eruption from a close safe location.
The Irazu, our closest Eastern friend (Brother of Turrialba) has breathtaking landscapes in its surroundings.
Having some of the most fertile soils of the country and producing onions, potatoes, garlic, carrots and several other vegetables. Also with an abundance of restaurants and touristic attractions in its skirts.
---
---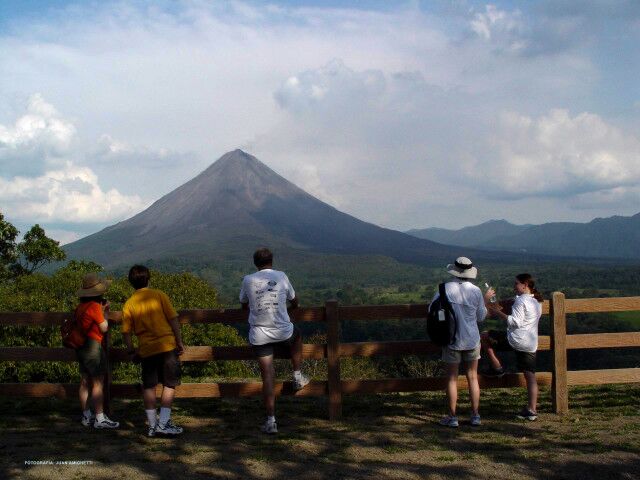 Arenal:The mighty one! This volcano that was fully active from 1968 to 2010 created one of the busiest tours areas of Costa Rica. There are hotels for all tastes and budgets, from gorgeous high-end options to nice and clean budget choices. A half dozen hot springs areas, several canopy tours, rafting options, waterfall rappelling, horseback rides, a rescue center and some agricultural tours and cultural tours, not to talk about several options for travelers with purpose who want to spend their vacation doing voluntary work.
---
Read also: 7 things to know about the Arenal Volcano
---
Rincon de la Vieja: Close to the Liberia Airport and about five hours from San José, has hotels that are authentic adventure centers, forest trails, hot springs, mud baths and some of the most astonishing paths in the National Park. It also provides the country with clean geothermal electricity.
Miravalles Volcano: This volcano has several hot springs and mud baths complex with gorgeous hotels to stay around.
Turrialba Volcano
And of course, we cannot skip the Turrialba Volcano, our most active volcano and or nowadays trouble maker.
The area of Turrialba is a beautiful hidden valley with a nice warm temperature and several adventures, from rafting to canyoneering, from zip lining to mountain biking. It has Guayabo National Park with the only pre-Columbian city reminiscence of the country.
The volcano is a fantastic thing to witness if you are lucky enough to be around in one of its eruptions…. And as an interesting detail in the Turrialba Valley, no ashes have fallen. As it is the wind towards the West that spreads them in the Central Valley.
So actually, as you can see having volcanoes is not so bad at all. It is pretty good…. It creates jobs and makes us smaller in awe when we see them, with their revolving ashes, reminding us that Earth is, in fact, alive.